Everything was great other than the stupid eye infection i'm having in the
early morning!
Thus, one of the eyes turns out to be red in some of the pictures.
Sigh. 2 days of hardcore shooting under the scorching sun had made me
at least a tone or 2 darker!
I forgotten to apply sunblock lotion for both of the days!
So much of me trying to undergo all sorts of whitening!
BOO!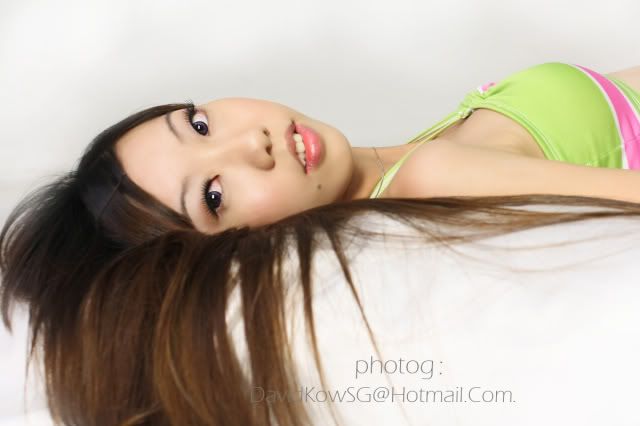 Nevertheless, got to thanks both photogs for driving me around!
Made me no need to spend any on transports at all.
More pictures for portfolio! Yay!


Oh, coincidently saw mediacorps at Hort Park having a shooting too.
Happened to saw Li teng & Pornsak in the toilet, so i actually
went into the Male toilet to have a picture taken with them. :)
They are really friendly people!
Li Teng even talked to me!


Li Teng: Hi, what are you guys shooting over here?
Me: Oh, i'm having photoshoot.
Li Teng: Oh, for what mag's purpose?
Me: Nope. Just modelling shoots.
Li Teng: Oh ok *smiles*


HAHA! We even saw Lin Cui Fang & Jeff Wong!
They are very friendly, they smiled at me. LOL.








Would you like to have a sexy photographer??
I know if i choose to post up my pictures onto my blog,
i've got no rights to stop you guys from 'saving' up my pics.
I get people telling me they saved EVERY pictures of mine at a folder
in their computers, & setting my picture as the wallpaper/display pics.
I know i can't stop weird people doing all these, but please keep those
pics to yourselves, & not forwarding or post them onto some other forums
please! Especially those 'dirty' sites!



Thanks to a friend who informed me,
a few of my pictures were at SgGirls.
I believed that person is one of my reader,
can tissue guy please contact me/take them down please!