Advertorial
Hello all dearest,
Janice is here bringing you tasty treats for Christmas!
http://sweet-addicitonn.blogspot.com/
Kudos Bar - your fav snack!
"There isn't any good or bad products. The customer chooses them,
it's only how the product satisfy and fulfil every customers' needs
and capture their hearts" - ZhiXiang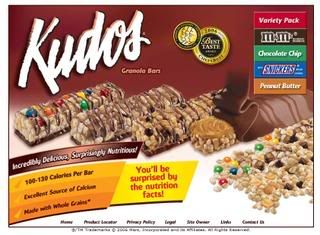 I know many of you will be too lazy to even click on the link above.
So i will do my friend, Zhixiang(owner) a favour, as well as for you readers
to post out all the informations alright!
Interesting Facts.


Kudos is a granola bar. Kudos is an award winner in 2006 for Best Taste.
It comes in 4 flavours; Peanut Butter, M&m, Snickers and Chocolate Chip.
It has a high amount of calcium with ability to strengthen bones and other stuffs.
It contains only 100-130 calories which is very good because you would not
get fat by eating.
It is not a junk food! Click here to take a look at facts about calories :
http://kidshealth.org/kid/nutrition/food/calorie.html
Why you should consume Kudos!



You're able to replace your common breakfast with this nutricious
treat that cost not more than $2.50 per bar.


For adults rushing off to work in the morning, this is the ideal breakfast!
For children who refuses or dislike drinking milk, YOU need the calcium!
This is an ideal replacement for those who refuses or dislike milk.


Girls/women who loves snacks and something light and yet able to sustain
hunger but their troubles are gaining weight. This is your cure!
This product is made of grains which is able to make you full, tastes great
and contains very little calorie.Women who does yoga can consume this
product as the yoga exercises helps to burn the calories away and it will
give you more energy!


Why not replace this with your common breakfast that might cost alot
or comprises of unhealthy food like Macdonald's or KFC.
A breakfast at Macdonald's or KFC might cost the least $2 or on average
$4-$5 and its very unhealthy. This bars does not even cost more than
$2.50 per bar and yet its healthy and able to help maintain your weight.


Its Definitely TASTY!
* A note to all, 100calories might be alot to girls of small builts
because their maximum intake per day might be as low as 1000calories.
Do consider again, I'm not here to promote only my product, but as well
to help and provide everyone the best of services. =)
Take care and enjoy yourself!
Our promotional plans
that last til 28th December as part of the Christmas Festival.

Below are our 3 price plans:
1) Buy 3 bars and get 1 bar free at the price of $2 per bar for $6.
2) Buy 8 bars and get 3 bars free at the price of $1.80 per bar for $14.40.
3) Buy 12 bars and get 4 bars free at the staggering price of $1.60 per bar for $19.20.


Before this promotion our Kudos is selling at $2 per bar, buy 4 get 1 free.
With this promotion you save:
1) $2 with non promotional price of $8.
2) $3.60 with non promotional price of $18.
3) $10.80 with non promotional price of $30.


Why let this great chance to benefit yourself fly?


Don't hesitate please contact us at
lovers-cliff@live.com
now!
For faster replies, call/msg zhixiang at 97288550 or msg meilian at 92315486.


I'm so tempted with the yummy flavours that i ordered a total of
14 bars! & thanks to Zhixiang for giving me at the special rate!
*** Do include that you are '

Janice's blog-reader

' to enjoy
the special rate of only

$1.80/bar, for 8 orders & above

!
Anyway, don't be lazy lahs.
Just click & don't forget to order k! HAHA!
http://sweet-addicitonn.blogspot.com/