Been eating only 1 to 2 meals these few days.
Cos' whenever woke up, its already the afternoon. & i got to rush myself to school & reached after the break time. So i only get to eat my dinner & supper. If i happens to sleep early, i'll have no supper.
My habitual lateness for school is back again :(
I think my lecturer is blind or need some eye check ups. I went to school like every single lesson & he can tell me he didn't saw me for a longggg time.
I thought i'm already one of the most eye-catching in class as i'm always late & leaving class early. How could he not notice me at all??? WTH!
I scheduled my plans nicely today:
12.15pm-3.15pm - MDIS
4pm- 4.45pm - BBDC
6pm-10pm - roving at Harry's
Kronenbourg! A new french beer with a fruity smell!
This is the first time i heard of this beer.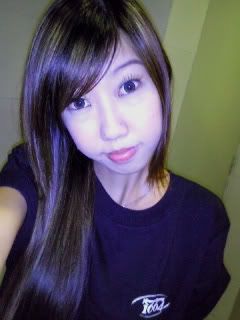 Resisted myself from the temptations by my friends. You know, all of them will be hitting the club tonight. But i'm too tired after work already. I need some quality sleeps.
I met 2 weird people while on my way to Raffles & at work.
1) There was this late 20s-looking, formal dressed guy stalking me from the MRT station all the way till i'm out on the road. I even stopped by a toilet & get changed before i continue my journey, & he even waited outside the toilet. I was walking along the Raffles exchange which links all the way till LauPaSat(i can tell you it is quite a long distance). When i was about to get up the escalator, he suddenly tapped me!
He stumbled alot with all the "erm" with long pauses in between SCRATCHING HIS HEAD trying very hard to construct the sentence that he wanna say. LOL!
After a few seconds of waiting, i questioned him "What are you trying to say? how can i help you??"
Then he told me "I.... iii... *scratching head* just.... want to..... erm... make friends with... you."
I told him it's not a very good idea & im sorry. Guess what he did??
HE RAN AWAY! RAN!!!! hahahaha. I was shocked for a moment. Weird!
2) Was working, walking around. A man stopped me & tell me "Hey! I'm your lecturer!"
But i'm very sure i never seen this man before. He said to me again "You studied NUS right? Taking Bachalor of Business Management."
LOL! I am taking BM but definately not Bachalor, & not in NUS lors!
Madness!
Settled my late dinner/supper by KFC takeaway!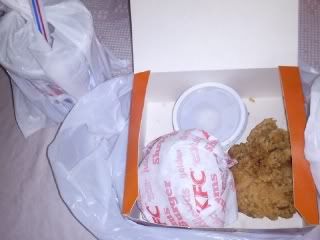 Sleeping soon! Goodnights!