I am so active in Twitter recently, ditching away my once-loved blog & facebook.
It feels so like a "up-to-time mini blog", so follow me there if you want to kpo me.
I can hardly find time to sit infront of my com, most of the time i'm using my phone/itouch to online even if i'm home.
To the extent i need to check emails & send my appeal mail while i'm on the train travelling to work today lor!
Don't ask me what i'm busy with, i don't know myself too.
All i know the routine was:
Sleep, wake up & rush to work or whatever miscellenous, dating Boyfriend
(no guessings needed, you're right, it's WW. Like finally, you may say.)
& back home sleep again.
But it has been a fulfilling week as i clubbed
(that shall be my last, for the near future.),
went for a couple of events & casting, bbq, got my E71 fixed, caught movies, sang K all done with Boyfriend!
-
-
-
-
-
Let's rewind the time back to Last Friday, 21st August 09.
Went over to a talent company for Tiger Airway's briefing & fitting.
Formal tie-ed up shirt, & pvc neon orange tiger stripes shorts!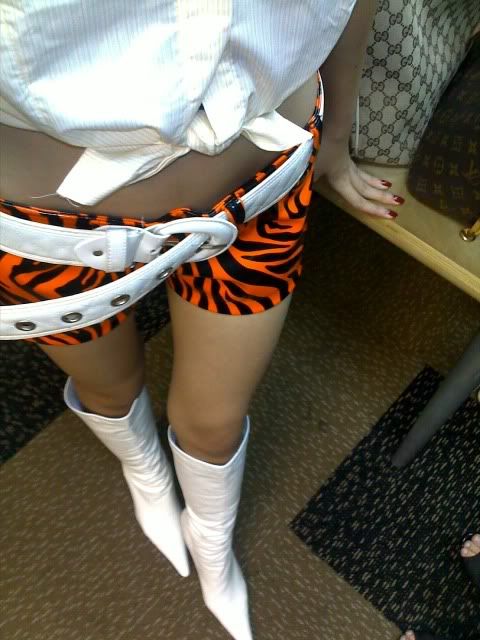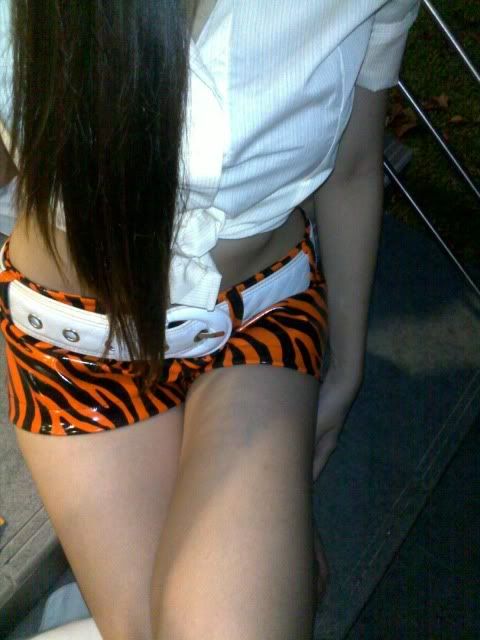 It was supposed to be a short briefing, but it ended up dragging till an hour plus just because of that fussy client which made us so pissed! Thus, i was late for my date & made WW waited for me for so longggg. He was rather impatient, but he acted it quite well (or maybe because i'm not senitive enough) so i thought why is he so gan chiong about.
Haha. You'll know why later.
He asked me to guess where were we heading, but doesn't want to tell me the answer. Irritating!
Not long after, i saw this pass by my head above, & before i realised, we were in the carpark.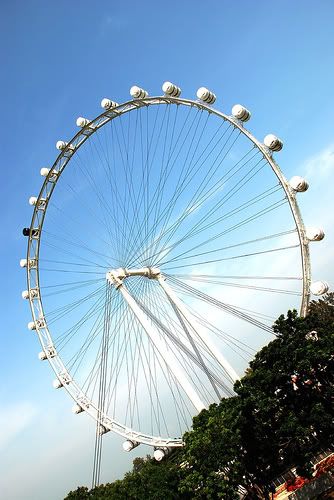 So he told me, "his friend" say there's a restaurant not bad at there.
Soon, "his friend" called. But his conversation between him & "his friend" is so formal lor! Speaking in English somemore
(cos' he don't usually speak English to them?)
! A bit not right already. But nvm, the naive me still choose to believe him
(& i swear at that moment i really believe him lor! feel so stupid! haha.)
.
"His friend" was actually one of the staff to check whether have we reached not -.-
Not long until i arrived to a VIP waiting room, & was ushered in. Then, i smelt something fishy!
& apparently, he booked the flyer dining at an earlier timing.
But i was stucked at the stupid briefing place which makes him soooo anxious that we will miss the timing. But luckily the management is kind enough to let us join the later timing's ride.
While waiting...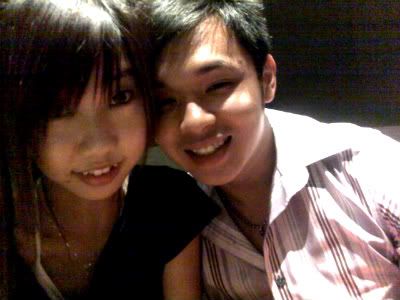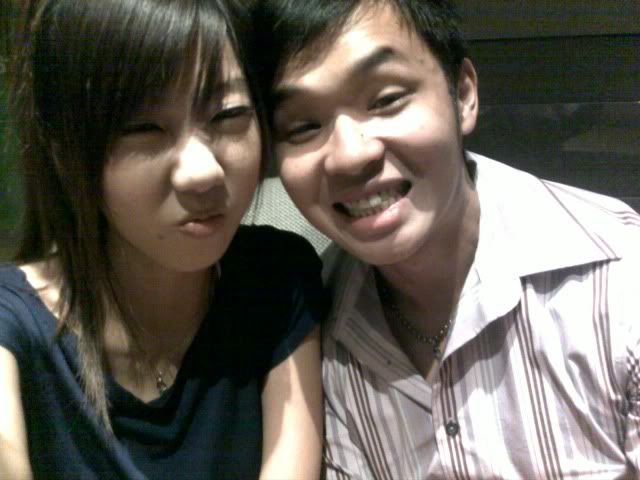 Then, we were being ushered again to take a picture before waiting to enter the capsule.
Walao, never tell me earlier that we are going flyer, then i can wear nicer mah & i can bring my camera!!!
**Pictures quality are super bad from my E71, & i don't own a photoshop software!**
Guess what,
WE WERE HAVING SKY DINING INSIDE FLYER!!!!

& THAT WAS ALSO MY VIRGIN TRIP ON A FLYER!
Ok, i sounded so suaku over here. But who cares? My Boyfriend brought me to Flyer's dining leh! (Erm, still not yet my Boyfriend at that moment.) LOL.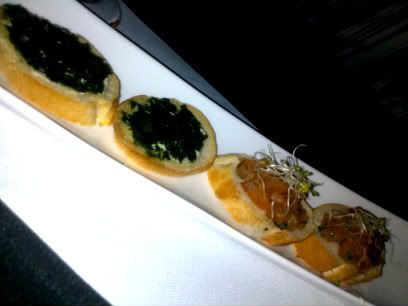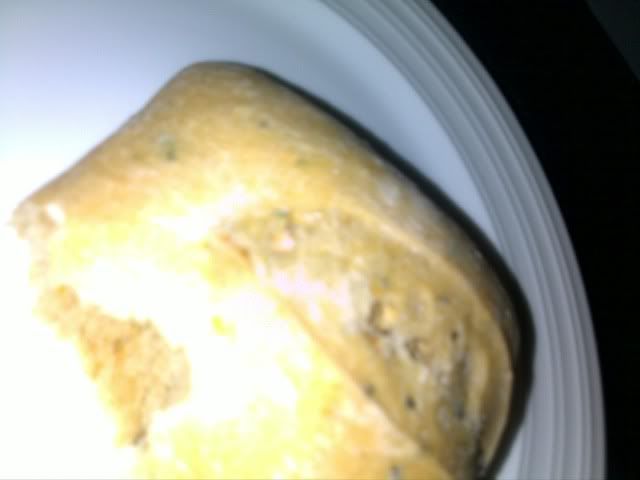 I was so so so stunned by everything lah!
The people who treated you like really VIPs, the waitress serving you, the food, the wine, the menu, the flowers, the asking of "question", the night city view... the whole one hour was so so so ultimately sweetness.
We were dining together with another couple. So 2 couples in that capsule.
It was only till the 2nd round of rotation, & till when we were nearly at the very top Singapore enjoying the night view, he bluffed me that he's going to take some serverts...
& ta-dah! The servert is this gorgeous bouquet of flowers! I'm greeted with 12 red & 1 white roses!
[He explained: 11 red + 1 white = 12 roses = be mine/ be my girlfriend & one in a million.]
& ... ... ...
We're together!
Thanks to that glass of white wine lor, if not i doubt he'll have the guts to pop up that question. I nearly wanted to delicate a song to him already. LOLLLL!
Then, we were being ushered over to the lounge for our deserts.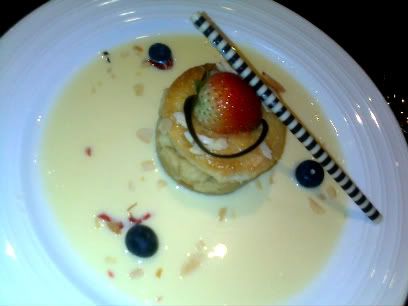 Apparently the servings are too small for my piggy, so we went to Popeye's. Haha!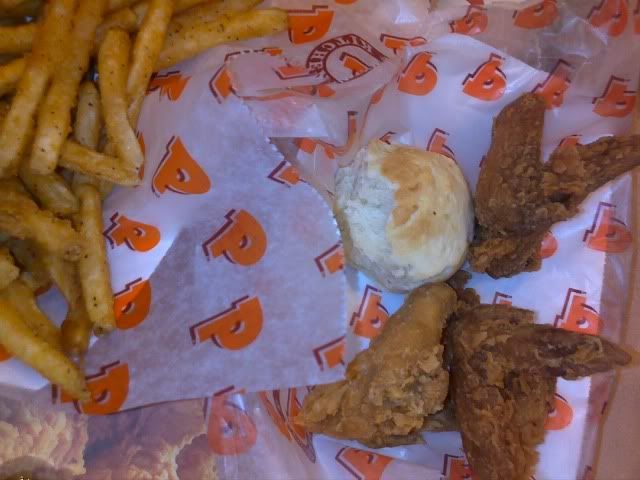 Home sweet home, after that.
Can't stop admiring those roses till i had about 30 over pictures taken with them.
I look quite bad in them as i was either having messy hair or oily nose. LOL.
Baby, thanks for making it happen!
I know you have been treating me super well, near spoiling me but not yet.
& i also knew that i've been quite a bossy demanding bitch.
Okok, i will aga aga one! LOL!
Love love!!!!
Thinking back on we knew each other from "match-making session" just made me laughed!