Out for supper with
WW
on Monday night.
& i embarrassed myself at the noodle stall.
Why i do i always tend to do stupid things?!
Pass him this huge box!
-Hello Panda,
-Kinder Joy,
-Kit Kat,
-Ferrero Rocher,
-Famous Amos,
-Choco Banana Pocky
-Boy/Girl choco lollipop.
A box full of 'chocolates ration'. LOL!
So sad lor, he said he didn't pin any high expectation of me being so "creative".
He really thought i would throw him a box of
Hello Panda
& that's it.
I should just do that, save my effort!!!!!
Like joker only, hiding under his cap to avoid my camera flash.
Posing with the bread my mum asked me to buy. So funny!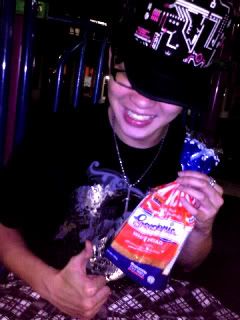 My turn hiding my ugly face under the cap. Check out my bloody red nails!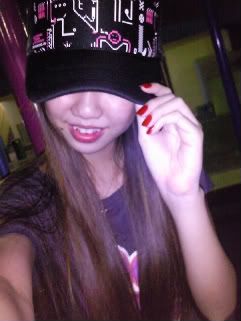 Bye!