I took like half a day to upload pics & blog about this entry!
So many pictures!
Woke up early morning & get my way to Harbourfront interchange to meet up with the rest of the 100plus crews.
We're heading into Sentosa!
It's a Barclay Golf Open. So lots of golfers all over the countries were there.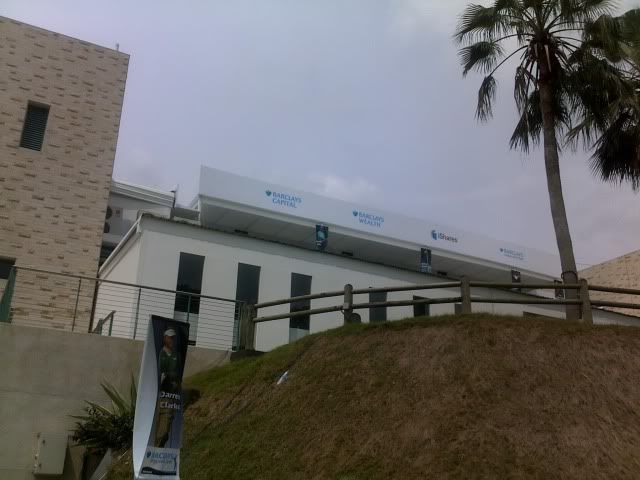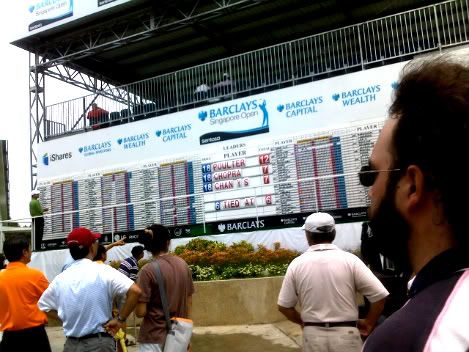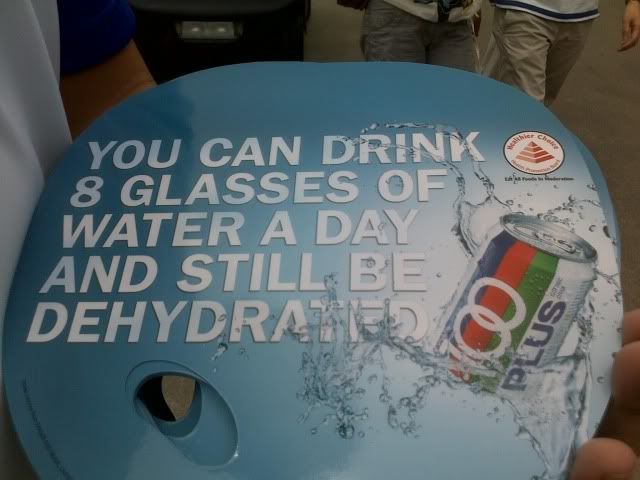 The ladies job is to be Umbrella girl. Take the HUGE Umbrella & walk around.
Baby & I had a good laugh at this pic! *inside joke*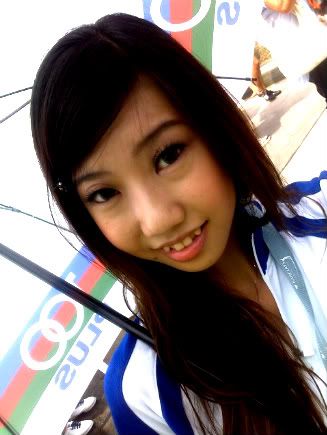 Work should end at 6, but we ended around 5.45pm.
I quickly rush for the shuttlebus without even changing out of my attire & rush like mad to another event at Suntec by 6.30pm.
100plus mates all say i siao! LOL.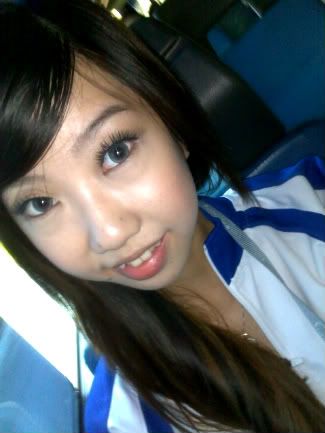 After briefing, we change of to my Johnnie Walker uniform.
It was a Halloween Bus Tour event organised by Balancava.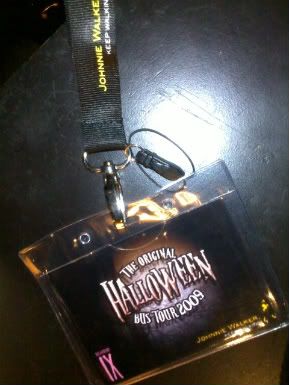 Customers were all dress-up & will club-hopped to 5 different hot spots in Singapore.
(Balancava, Over-easy, Powerhouse, Wavehouse, Le Noir)
Each time they board onto the bus, there'll be party girls on board to make them BLOW VODKA!
It was total havoc!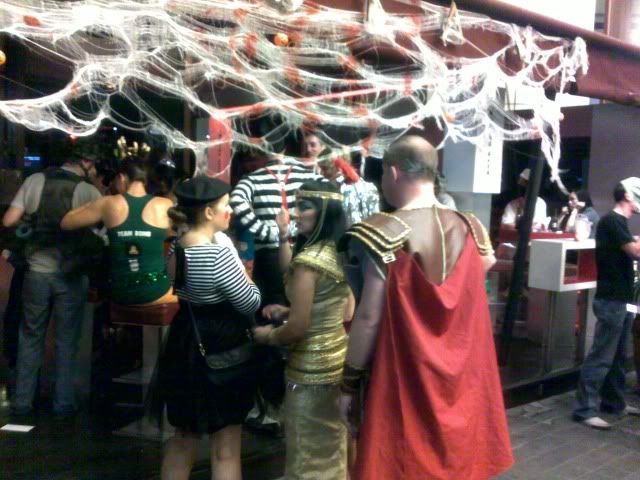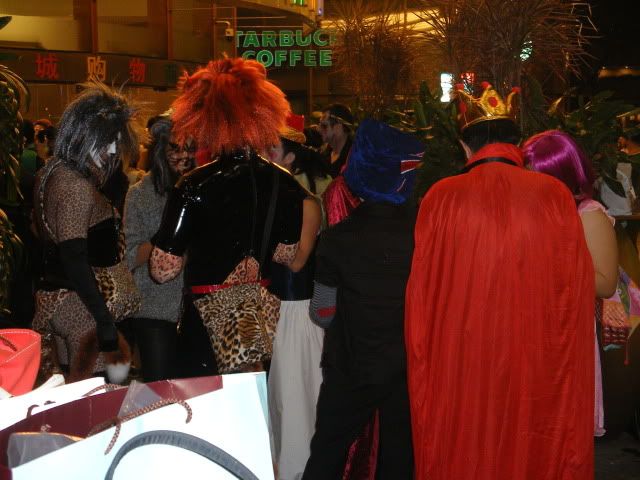 We were told travelling on Hippo Tourist Bus, but i guess it would be too crazy to summon 7 big buses around right?
We were supposed to walk around promoting our brands & take pictures with people. Looks like we are the ones more interested in taking pictures with them lor!
Due to some issues, we girls do not even need to promote/do anything. Literally flower vases!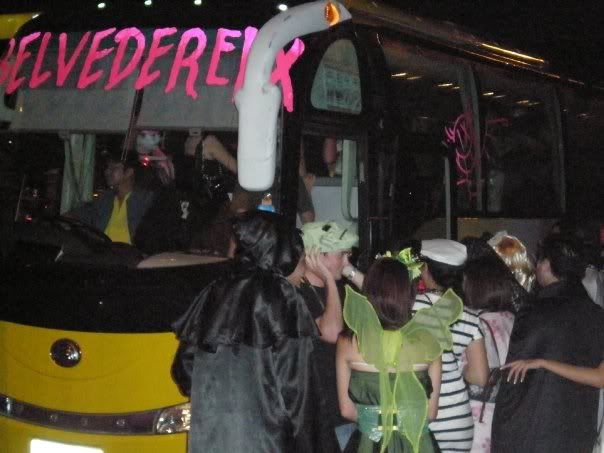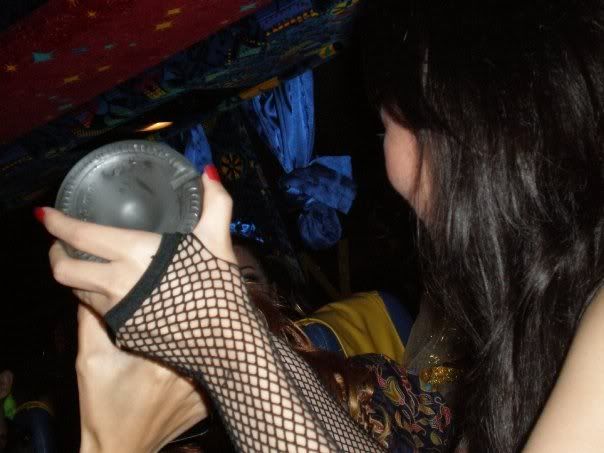 3 babes for Belvedere IX, 3 babes for JohnnieWalker.
Vanessa, Victoria, Joslina, Adeline, ME, Quenmantha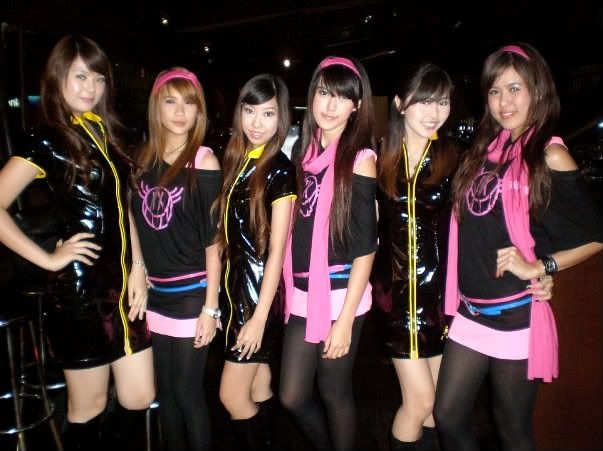 I feel like a dwarf beside them ):
I just want to claim that, not that i'm short, is they're freaking tall!!!!
Quenmantha is 1.75cm
Vanessa is 1.71cm
Victoria & Adeline around 1.68cm
Joslina & Me 1.65cm.
See, 1.65cm is considered short among them already! OMGGGG.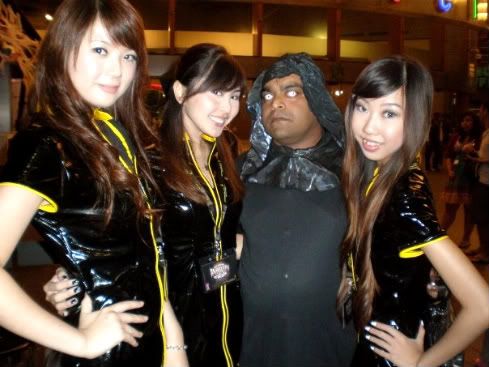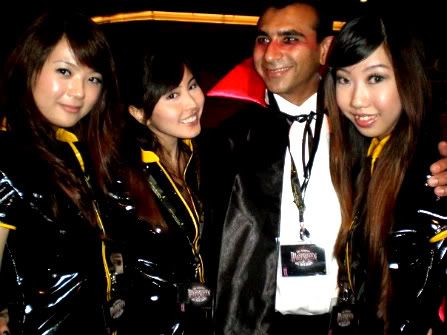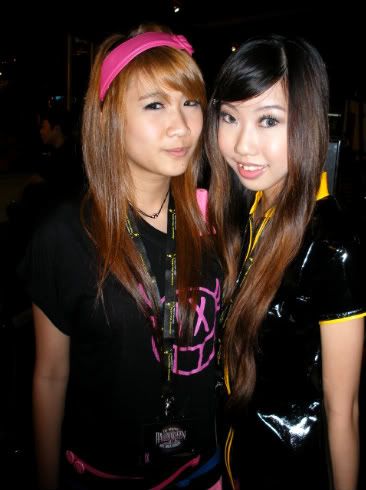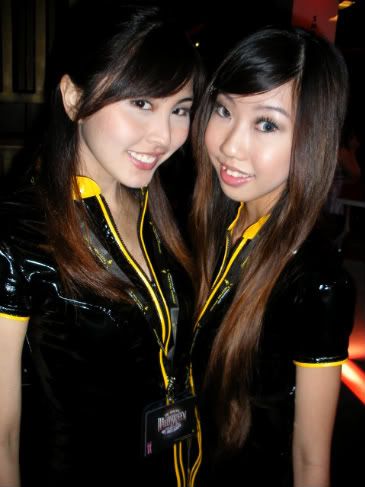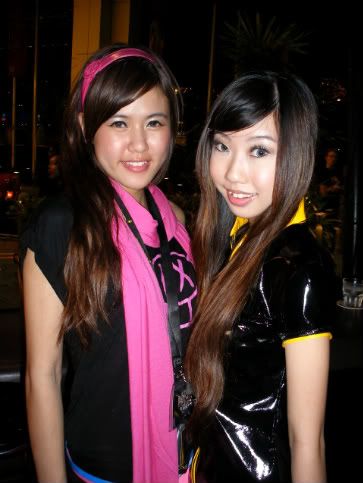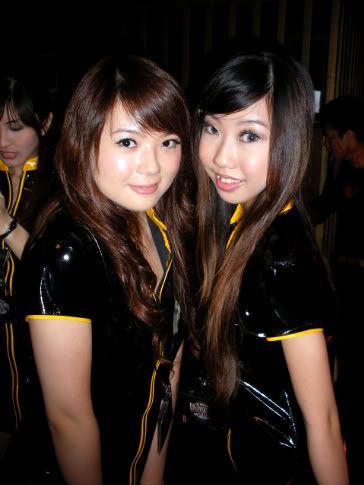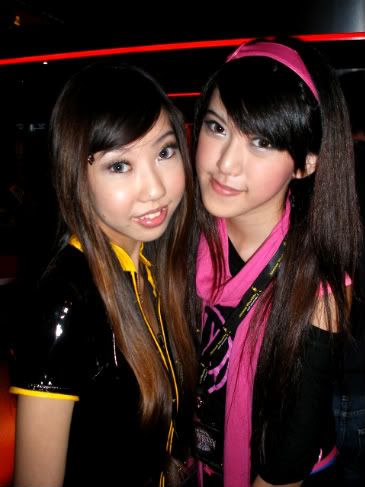 Ris Low leopard prings!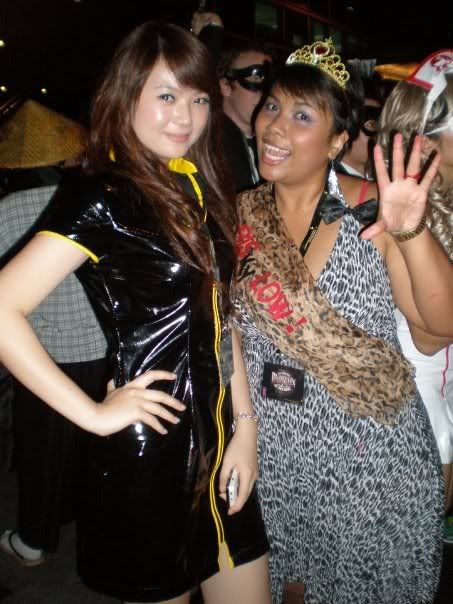 Hantu Teh Teh (big breast ghost)
Finally some passerbys offered a shot with us.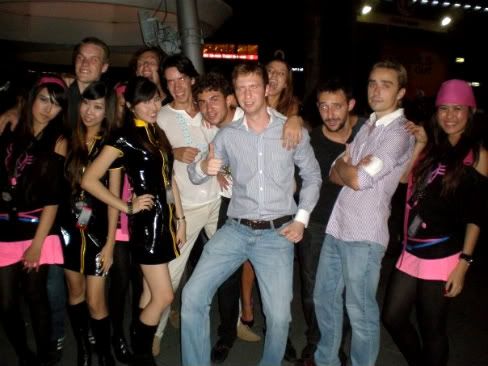 You recognised these places??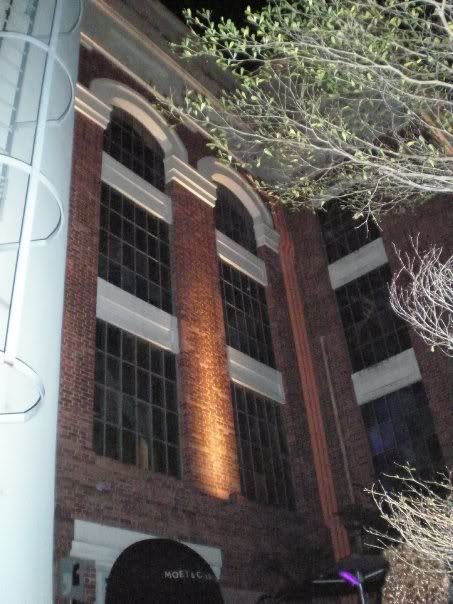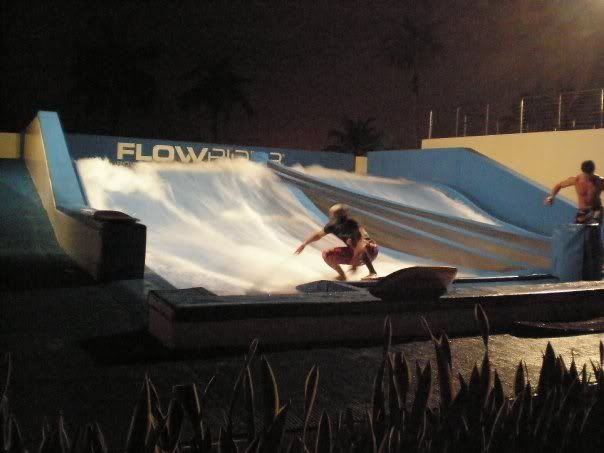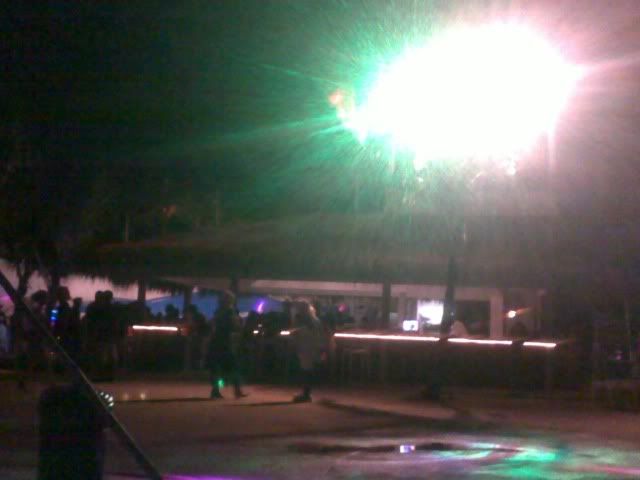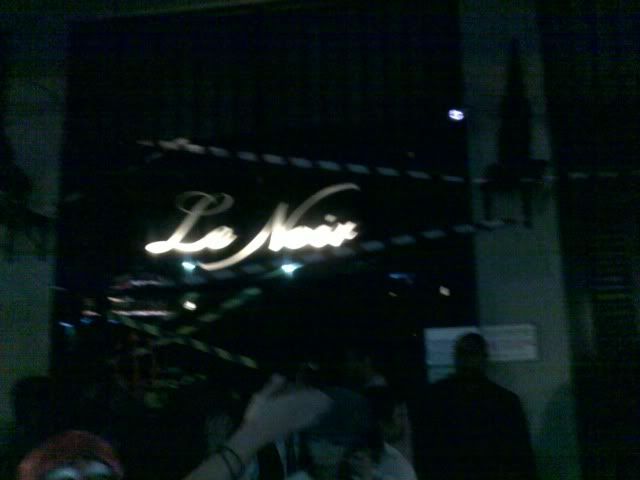 My last stop was at Clarke Quay's LeNoir, so gathered Cousin & group over to SOHO since that's the only club i could get in without queue-ing.
After spending much time outside, we finally get into the club.
Quite a wrong choice to have gone SOHO cos they're not serving alcohol at mere 2am!
Dancefloor all the way till 5 before heading home.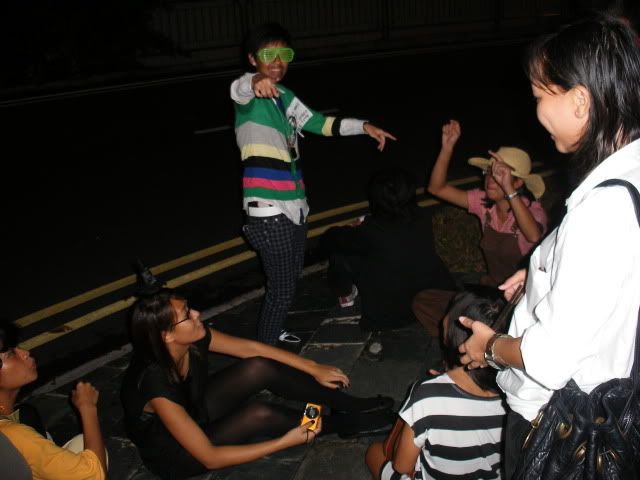 People asked me why spider?
I answered: Because i always thought Halloween always got to do with spiders? LOL.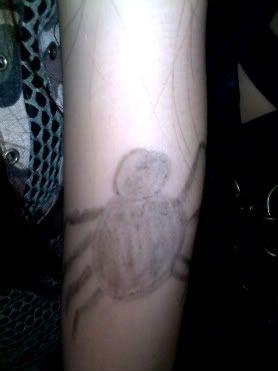 I was an Army Girl that night!
Cousin's friend (:
Slept for 3 hours & woke up for work at Sentosa again.