Walked past the cinema with my boyfriend last weekend, and there's this big stand which caught our eyes!
We were looking for the title of the movie & so, it is John Carter! The preview caught quite a couple of the passersby eyes, and so you know this movie has got its impact.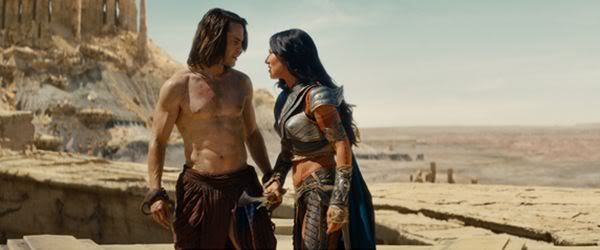 Synopsis of John Carter movie:
From Academy Award®–winning filmmaker Andrew Stanton comes "John Carter"—a sweeping action-adventure set on the mysterious and exotic planet of Barsoom (Mars). "John Carter" is based on a classic novel by Edgar Rice Burroughs, whose highly imaginative adventures served as inspiration for many filmmakers, both past and present. The film tells the story of war-weary, former military captain John Carter (Taylor Kitsch), who is inexplicably transported to Mars where he becomes reluctantly embroiled in a conflict of epic proportions amongst the inhabitants of the planet, including Tars Tarkas (Willem Dafoe) and the captivating Princess Dejah Thoris (Lynn Collins). In a world on the brink of collapse, Carter rediscovers his humanity when he realizes that the survival of Barsoom and its people rests in his hands.
If you were to ask me what would i do, or how would i imagine my life, if i found myself on Mars now, a stranger in a strange new land, I would tell you i'll sit down and cry! Hahahaha.
Ok, on Mars means i would have all the gears around me right? I'll probably play around with the gears, try floating without gravity, till i'm bored i'll look if there's another kind of the same as me around whom we can make friends. Next, i will source for food and all the survival needs! But i am a very not adventurous and pessimistic person, i would probably give up after a day and think of ways to commit suicide! It's just so scary to be all alone in an alienated place dude!
Haha.
Catch John Carter in cinemas this 8 March 2012 and like the Official Disney Studios Singapore Facebook Page and follow @DisneystudiosSG on Twitter!