I have a confession, i do not use use any sunblock at all before my makeup routine. I know i know, it's bad for skin and thus i have lots of freckles at this young age now! Sigh!
I do have quite a number of sunscreen at home be it sponsored or i bought it, but each time when i tried it out for the first time, the next moment i will rush to the toilet and wash it off immediately.
I just hate the sticky / oily feeling!
So one fine day,
Hada Labo UV Moist Emulsion
arrived at my doorstep.
And i was like, "Hada Labo leh, the japanese very branded lotion, no harm trying right!"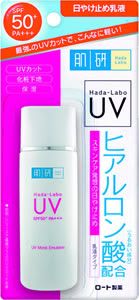 So this is the bottle of it, 38ml not too tiny and sure it's not too bulky!
Shake well before use! As you can see, it is watery and milky!
I'll try it on my hands first!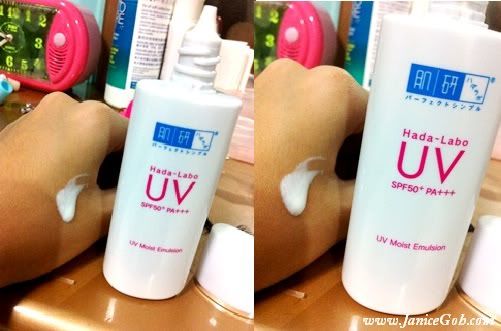 Omg, like!
It absorbs so fast by the skin and the most important thing, it is a water-based product.
For people like me with combination oily skin, i hated oil-based products so much!
So tried it on on my face!
I used only very little droplets as i said i'm still not quite used to having sunscreens on.
So this is after applying the
Hada Labo UV Moist Emulsion
and my usual bb cream look!
Hada Labo Super Hyaluronic Acid Moisturizing UV Milk with SPF50 PA+++
is a 3-In-1 Sun Protection which offers High Sun Protection While Caring For Skin.
This multipurpose UV milk has 3-in-1 benefits: UV Protection, Hydration, and Make-Up Base.
The UV milk is gentle on skin, as it is free of artificial ingredients such fragrances, mineral oil, alcohol and colorant that may burden the skin.
This UV milk also keeps the skin's pH balanced, and is rigorously tested for low skin irritation.
Hada Labo Super Hyaluronic Acid Moisturizing UV Milk with SPF50 PA+++
has launched in Singapore this April at only $19.90 and it's only exclusively available at All Watsons. Do 'Like'
Hada Labo SG Facebook page
now for free Hada Labo samples and exciting giveaway