Attended a talk show by OMY yesterday as a model blogger on the topic of Social Escorts.
It actually left me with more thoughts while on my way home last night. There are so much i wanted to say but just couldn't express it out during the talk.
It is more of the modeling side anyway, nothing much i know about social escort firstly because i'm not one, and neither i have friends around me doing it.
Of cos i've heard stories of who & who worked as one before, but.... i won't judge till if i knew it personally.
Anyone could get flamed as an escort. As long you mia-ed from the scene & reappeared in a very high class lifestyle & atas dressings, people will gossip you as one.
Like i mentioned during the talk, i'm really not surprised with the underage escort prostitution.
Young girls are earning quick bucks at such way, while guys or rather men, just had this thing in them that they want to own a young chick. Whether or not the girl is underage, i think at that moment it doesn't matter anymore. They will just have the thoughts like:
one time only mah, not so suay one lah
.
I believe this kind of escort prostitution is happening all around us, just that no one actually go and dig it out.
Don't you agree?
One of the topic which wasn't being raised up was actually how will we feel if one of the 44 guilt men is my bf/husband. Hmmmm..... i will ditch him for sure if i have yet to marry him!!! That is damn sick please!
I can't really accept if my bf went for prostitutions, let not say an underage escort girl whom you are paying 500/hr for her. WTF, PAY ME LAH!! I AM YOUR GF YOU DON'T SPEND ON ME YOU GO FOR A YOUNG CHICK. I AM YOUNG TOO WHAT!
So after joining FHM, i get more and more of these escorts agencies and personal email proposals to me.
Went to search through these past 2 month's emails and screenshot quite a couple of it.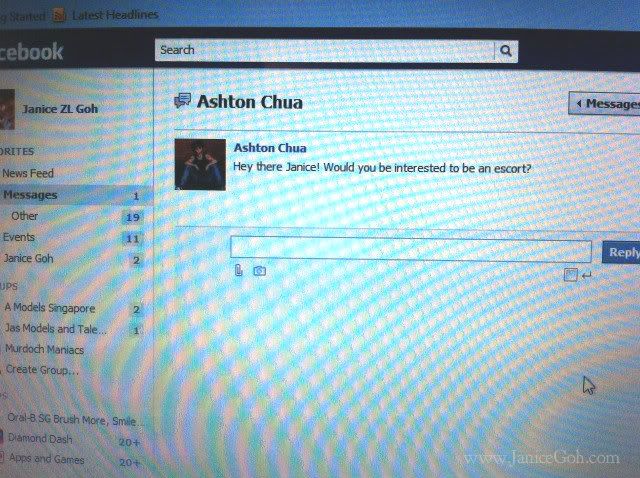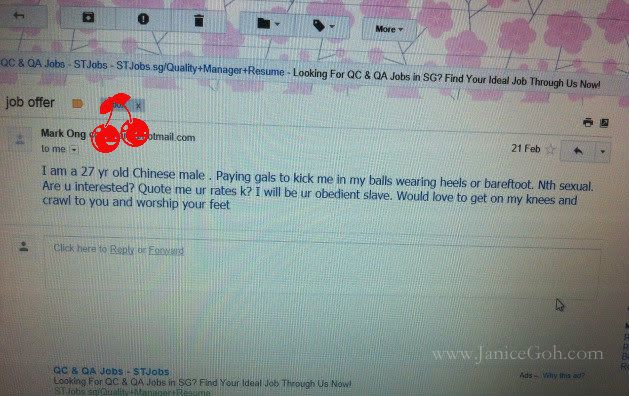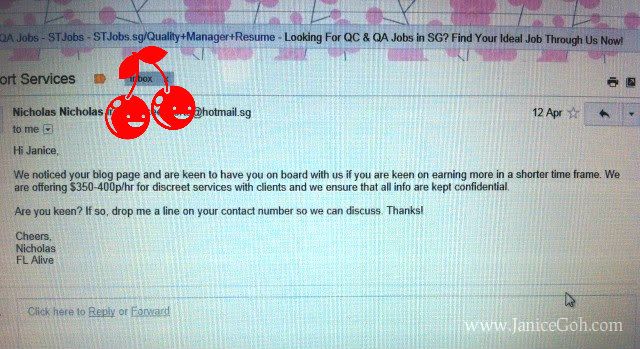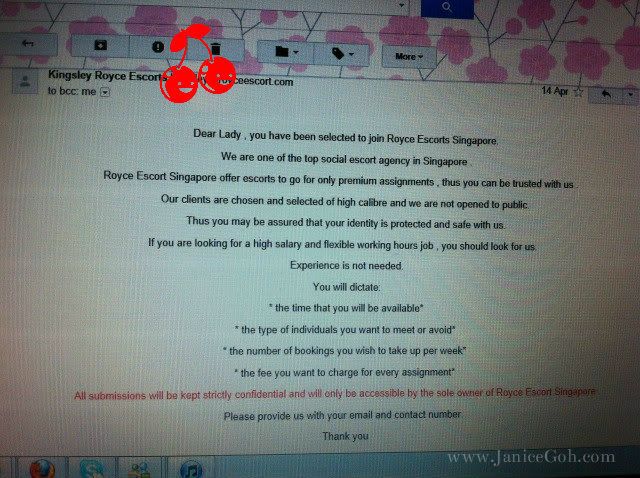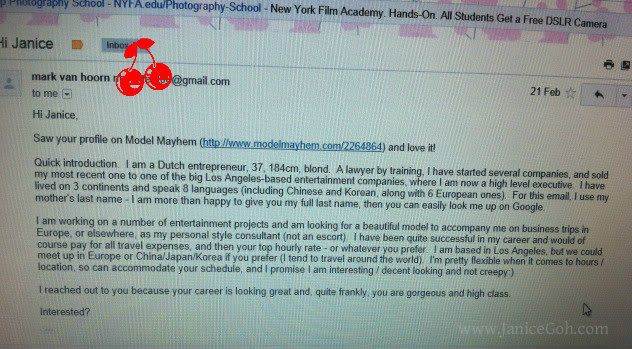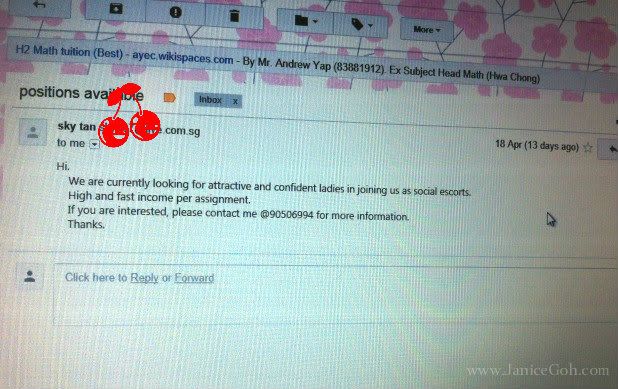 Some of them are already in my MSN list which i have no idea when did they added me.
So i also did chatted with them about the jobscope and all. Well well... relax ah... i'm just curious and trying to lure them say something but somehow the jobscope they tell you is always
"have dinner with the client/ attend private function with the client is what we engage you for, but you may provide more if you want the extra earnings"
WHAT EXTRA SERVICE HE MEANT I GUESS YOU ALREADY KNOW RIGHT!
And what pisses me off so badly after FHM is, the escort companies just think we girls are that low.
"You are already a FHM model, why can't you just be an escort since you have nothing to lose."
HELLO! WE JOINED CONTEST(YEAH A SEXY CONTEST), BUT THAT DOESN'T MEAN WE MUST BE AN ESCORT. You don't assume because the contest is so clean that we are so covered up and safely protected. Shame on you, dude!
Moving on to modeling, it is definitely not as glamorous as what you think.
Some people are lucky, they get scouted by genuine talent companies. While some work hard to get to what they are today. Nothing is easy, you work for it.
There are many types of models: events, photoshoots, runways.
The latter one is harder to get by. There must be a certain height & looks to be able to get selected to walk the runway. Some girls worked for years in events but don't get any chance in fashion shows too.
Young girls/ aspiring models out there, there is alot to take to be a talent.
You need to be really positive, hardworking, good attitude and STREET-SMART!
Positive - you must have self-confident, and be able to accept rejections. We go for castings & selections for all our assignments. You must be prepared that all these efforts does not always bring you back jobs. People can tell you straight that sorry you are not selected or you waited but no calls to tell you if you are selected, its so common and repetitive.
Hardworking - accept and appreciate all job opportunities. Do not hang yourself high up feeling all Diva-ish hoping for a 40/hr job to just look pretty. You slowly wait lah, you haven't hungry die i congratulate you first. Everyone starts from small.
Good attitude - yes, no diva attitude is accepted in this industry. That doesn't mean you need to be so easy and got cheated lah! You come late, always skive at work, people will mark you down. Be humble at all times. Doing a few tfcd(trade for cd) photoshoot doesn't make you a model, posing in lingerie or nude don't make you a model, doing a 10/hr flyer girl job don't make you a model either. If given a really big event, be thankful, you don't go around boasting for that 1 job in a year. And must also keep in mind & be thankful to the people who brings you up / intro-ed jobs/ pulled you into this line.
There are alot of girls changed for the bad after entering this industry. Many becoming hardcore clubbers, to show that they are sociable. Take up weird kind of private mingling jobs for the money. You meet lots of rich guys & prestiges man, so many 'models' ditched their boyfriends, do some really low acts to hook up with these guys. Even if they didn't ditch the bf, they will be the one got dumped. Which boyfriend can take the girlfriend going soooooo sociable to all other guys? I can say none. No boyfriends like their gf to be a model in fact, i can speak this on behalf my boyfriend! That is where determination comes in. Only firm girls survive.
Street-smart - very important. You must be able to distinguish what is a good jobscope and a bad jobscope. Who is the agents/companies you can trust, which are those potential scammers. Know how to take care of yourself. High EQ is important.
Girls, please do not get all hype up with the money escort agencies offered. Yes, the job might seems easy, and even if you know sex is involved, it is still easy to some (especially nowadays sex is so common to kids as young as 12) but i think youth, health & dignity worth more than anything. Once you get your foot it, you will be hard to part with that kind of lavish lifestyle & the money.
Any girls on the street, fb & blogs called themselves as a model nowadays. The term 'model' in sg is nothing big deal at all. Our standard of girls just can't be compared.
There are alot of ways to get spotted & popularity. You work for it, self-promote, join pageants and competitions, but don't stoop down to sleeping around with 'bosses/agents/directors" . DON'T DUMB DUMB GET CONNED OK, NOTHING COMES FREE! MANY SCHEMING PEOPLE AROUND!
Ok, this is probably one of the longest & most decent entry in these few months.
When the video is out will let you guys know about it again!