I'm back people!
Just a week more to Christmas Day! How are you guys celebrating it?
Nothing much a difference for me as i'm not a Christian, no jobs received meaning no double pay for the moment, nothing fanciful every year as usual as everywhere's crowded & so, i'll be spending Xmas at M 's place instead!
I have never receive much of Xmas presents ever since stepping into the teens. Still remembered how many presents I got to lug home from my cousin's place when we had yearly Christmas even gathering. Can't imagine how much the parents got to spend getting the 10 over of us a gift each!
Christmas didn't came early for me this year. So I decided to make myself a wishlist hoping Mr Santa will hear me at the corner of the moon!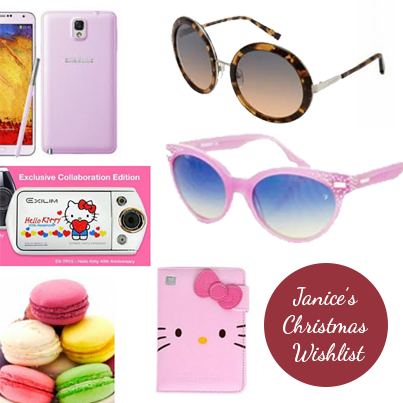 Wishlist:
1) Samsung Note 3 pink - It's not a want, it's a need now.
2)
http://www.glassesonline.sg/jason-wu-sun-iris-12943.html
- I love collecting shades, but doesn't wear zzz
3) Casio EX-TR 5
自拍神器 - WANT WANT WANTTTT. DREAMING OF IT!
4) Hello Kitty 2014 Scheduler - Definitely needed a scheduler anyhow.
5)
Many many Macaroons
- I very cheapo I will only buy 6 pieces for myself lol
6)
http://www.glassesonline.sg/fiorucci-fis-508-05.html
- Not a necessity but just cos it's in bimbotic pink.
I must be dreaming with my impossible wishlist! that's why it is called a wishlist for some reason!
Forgot to include the last one : TAIWAN TRIP !!!!!!!!!!!!!!!
Anyway the macaroons is the most achievable one ok!
Ok I decided to buy myself macaroons for Christmas. One strike off yay !
So going to dream of my Casio EX-TR5 now!!!! Goodnight!