For some of you whom have been following my instagram ( @jjjaniceee) would know that I did eyebrow embroidery two months ago. Did some research online and found that
The Best Beauty Centre
is actually one of the most affordable center with lots of positive reviews, best of all, located super near me! Ya, I am very lazy.
It's not my first time doing eyebrow embroidery, did it once few years ago & spent a bomb on it, so this time just wanted to be budget and chose the lower grade. I am aware that the effect might not be as natural as the higher grade service because of the difference in the kind of strokes, but it's ok cos I don't really want it natural & I will end up shading my brows over when doing makeup anyway.
I'm glad the beauticians there were not pushy & totally respected my choice although they keep reminding me the difference in outcome effect to make sure I myself don't regret.
My Au De Natural eyes
All settled, and we proceed with designing a brow shape for me!
I like it straight & thick (sounds wrong I know)! So I adjusted the shape a couple of times to make it straighter & thicker to my liking.
I went for the straight full brows.
Numbing cream on me. Haha I look like a joke here cos of the smudging.

And I was done!!!
Duration: 30mins
Pain level: 2/10
Price: $138
Very thick & dark & unnatural you would say. But this was just the excess ink left on the skin. It will peel/ light scabbing for the next one week and eventually fade to more natural-looking like now.
Eyebrow Embroidery is different from Eyebrow Tattoo.

Eyebrow Tattoo is a permanent method which involves the injection of ink into the dermis layer of one's skin. Overtime, the colour will change and some people end up with greenish/bluish eyebrows.

Eyebrow Embroidery is a non-permanent method. The ink is only injected into the top layer of one's skin. Overtime, we "shed" our skin and thus the eyebrow embroidery will fade off naturally after 2 years. (Depending on individual)
Just 2 weeks ago, I had the opportunity to try out eyeliner embroidery service at
The Best Beauty Centre
again! Told the director I was already their paying customer before the sponsorship!
You see, so good that I need to go back twice. Loyal or what?
Was pretty excited & yet nervous because it was 'eyeliner', I kept thinking will it be too much to have brows & eyeliner semi-permanently on that I won't be able to get back my 'natural nude face' anymore. But well, if you will be better-looking even without makeup now why not right?
So that was last few photos of me without any eye make up.




Reached The Best Beauty Centre HQ located at Toa Payoh centre and everyone were so warm and friendly :)
The consultant first explain to me the different kinds of eyeliner embroidery they provides, and the procedures that I will be going thru.
Lucky me, they decide to give me the best & latest Korean mimic eyeliner embroidery !
I am too blessed because this Korean mimic eyeliner is the most expensive service, & best of all, I am another step nearer looking like Korean!
Shortly, I am being placed in the room where director Cynthia start to 'work' wonders on me.
As usual, she will shape the design on my eyes. I have no issue & totally put my faith on her.
Then she start to apply numbing cream on my eyelids. One plus point of The Best Beauty Centre is they are so generous on their anesthetic cream! I am quite terrify before the procedure because I have heard so much, so many reviews & even my mum who did eyeliner embroidery before said that the pain is very excruciating! But to be truthfully honest, I FELT NOTHING. I know you people won't believe cos I was sponsored blah blah. But no, even as a paying customer where I did my eyebrows at Boon Lay's branch I did not feel any pain at all, while I still remember how I teared few years ago on my first eyebrow embroidery attempt at another super expensive place.

Probably the only pain is because vainpot me went to open my eyes to camwhore while waiting for the numbing cream to take effect & it went right into my eyes :(
Ok, that was painful. So I urge you girls not to open your eyes when you have numbing cream on your eyelids.
After 20 mins, I was then put to bed again and that is where the terror starts!!!!
To be honest I am really very scared. Not because it's painful, is because you will need to open your eyes during the procedure & you literally can see a blade poking so near so near your eyeballs!
Again, being very trusty, I just divert my attention to 'what should I eat for lunch?' and before I decide on what to eat, I am already done!!!!!!
Getting the ink on to the skin!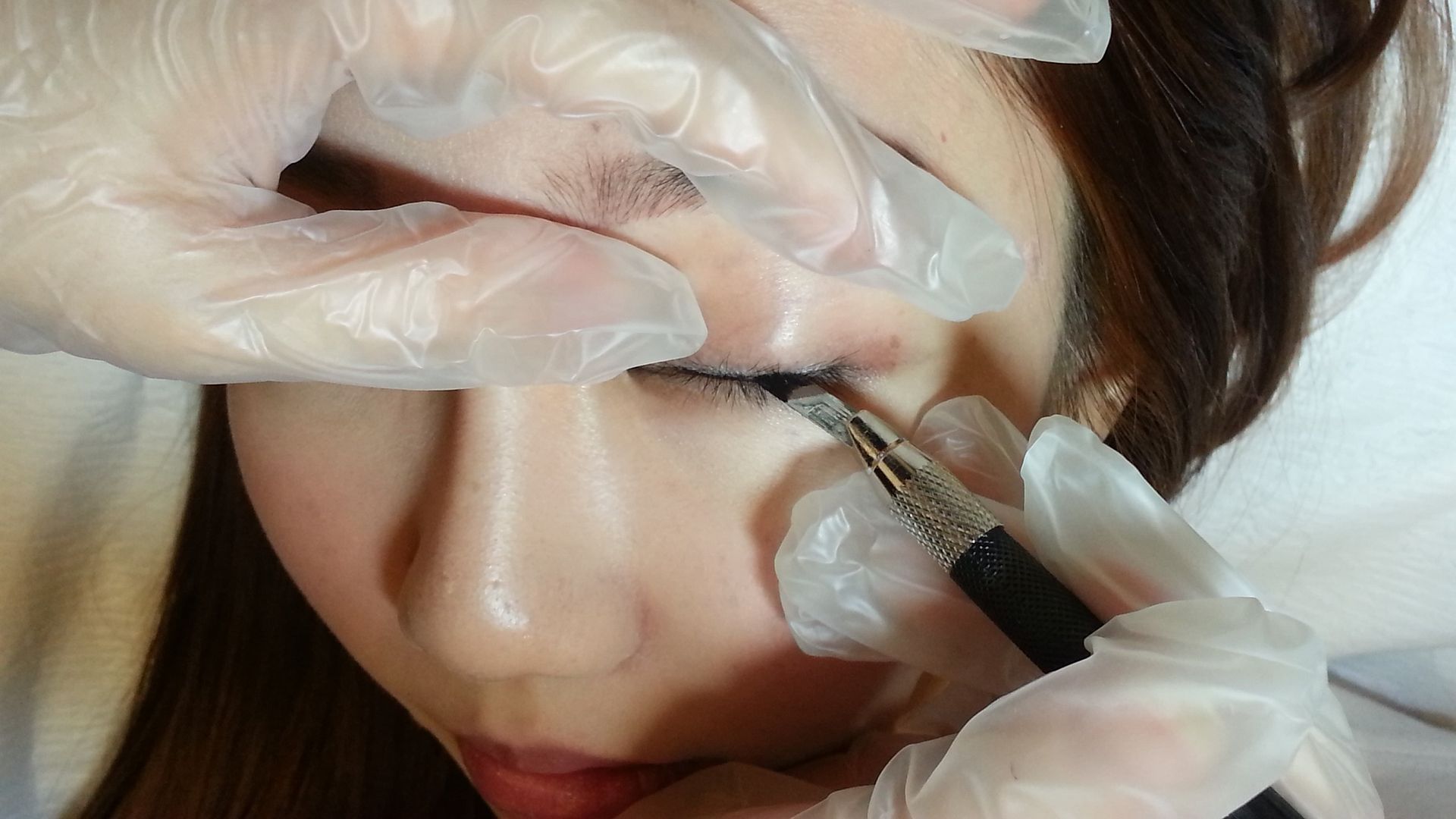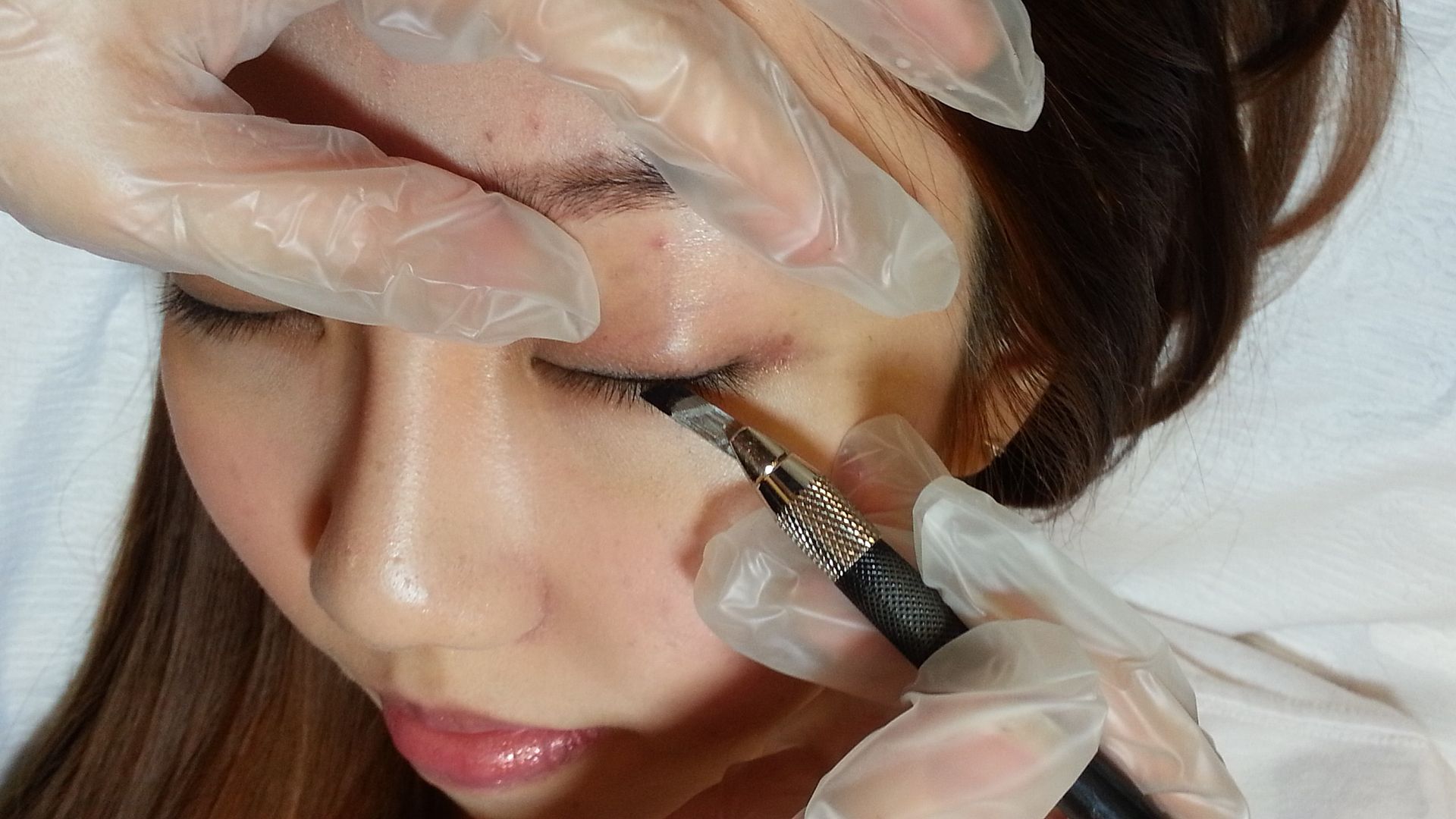 A layer of machine over to make sure the ink stays.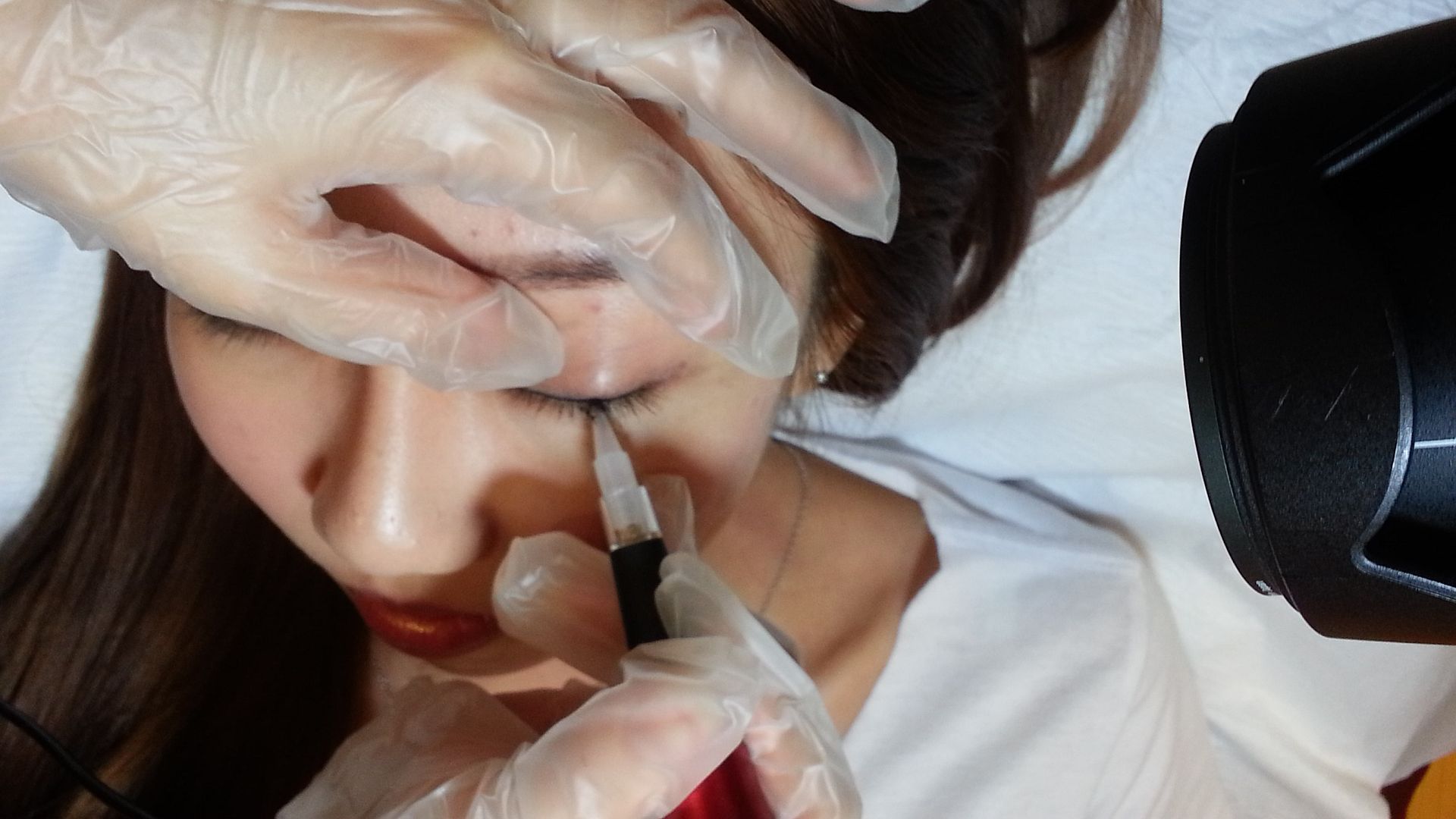 Lastly, a growth factor serum for my lashes to grow!
(I secretly love my nose here!)
I'm done!

Duration: 15 mins
Pain level: 3/10
SO HAPPY! REALLY REALLY NOT PAINFUL AT ALL, GOD BLESS !
The colour would fade about 50 – 70% within the first two weeks. But not to worry, there will be a touch up session.
I have a video on the whole procedure from designing the shape, to applying numbing cream, & lastly the inking.
You can see from the video it is pretty scary having a blade so near your eyes poking the lids
(NOT FOR FAINT-HEARTED) but I wasn't looking painful at all !







So, I am done.
It was just a very thin liner, we don't want to do it too drastic because uzzlang Koreans focus on natural good-looking facial features but not on heavy make up look. Secondly, you don't want to look so dramatic 365 days right?
Comparing before and after! I am more ready to head out without cosmetic now!
The products that are used on me.
I also get to bring home a after-care cream & a Derma lash control gel!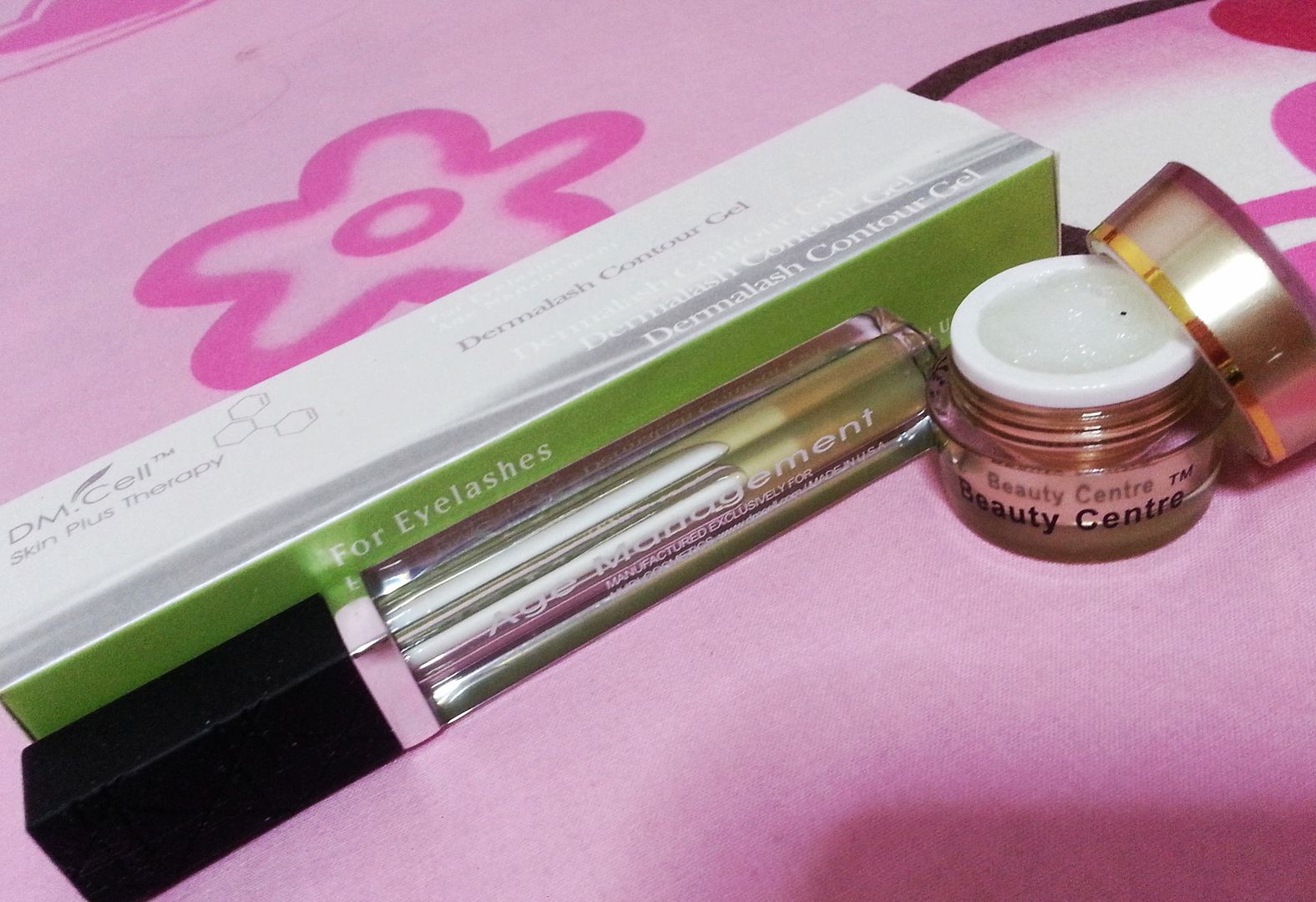 The Best Beauty Centre is very kind to welcome all my readers for a try for the Korean Mimic Eyeliner Embroidery at a discounted price!
Usual : $1680 inclusive one touch up session within 3months
Quote 'Janice Goh blog' for a 20% discount
I strongly encourage you girls to go and try it while they are having special rates just for you!
I am sure most of the girls actually already did eyebrow embroidery before. But I am sure not many have tried eyeliner embroidery before! When I say not painful, I really meant it's so bearable, I don't know how those that did it before said it was killing pain but I actually felt like some slight needle pricking that's all.
Perhaps, that is Yi Fen Qian Yi Fen Huo (what you pay is what you get).
Do visit their website & Like their facebook page for more info!
The branches I visited:


500, LORONG 6, TOA PAYOH CENTRE (MRT),
#04-35 (HDB HUB) SINGAPORE 310500
TEL: 6352 8101 FAX: 6352 1670
BOON LAY MRT STATION SINGAPORE 649846
TEL : 6791 9002