Hello from Paris!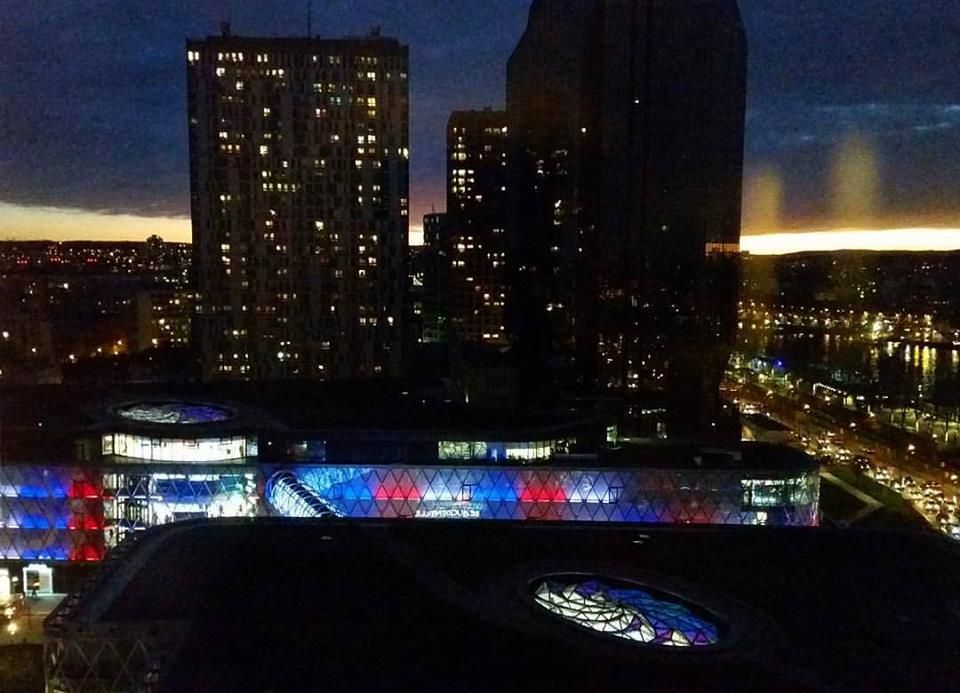 Just about half an hour before typing down this post, the accident prone me (like always) kinda fell down IN MY HOTEL ROOM & sprained my feet while getting down the bed to reach for the fridge. Why is it I am always reaching for food, & why is it that I always got injured even in my own room.
That aside, I decided to do a post because I happened to bring along my lappy for this trip.
It was a planned stay in week in Paris due to the bombing incident happened a week ago here in Paris. So we (me & my crews) thought it was rather unsafe to be out. So while typing this, I am now sipping on my cheap 2.59euros Muscador champagne, eating my Parma ham & biting on Brit cheese. Life is not that bad afterall.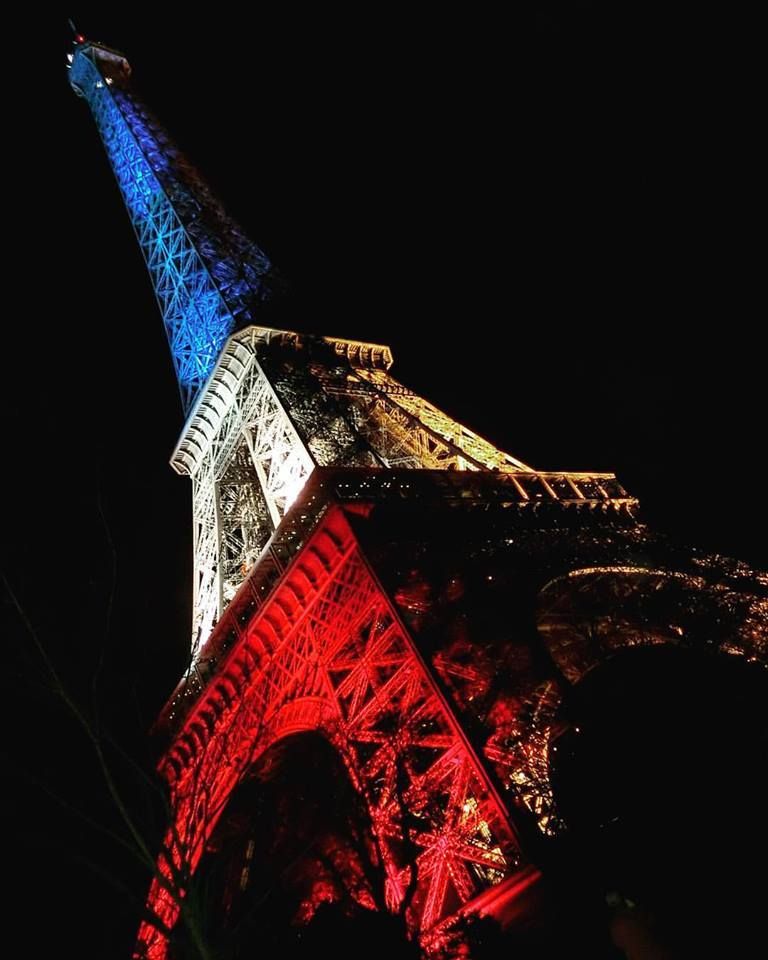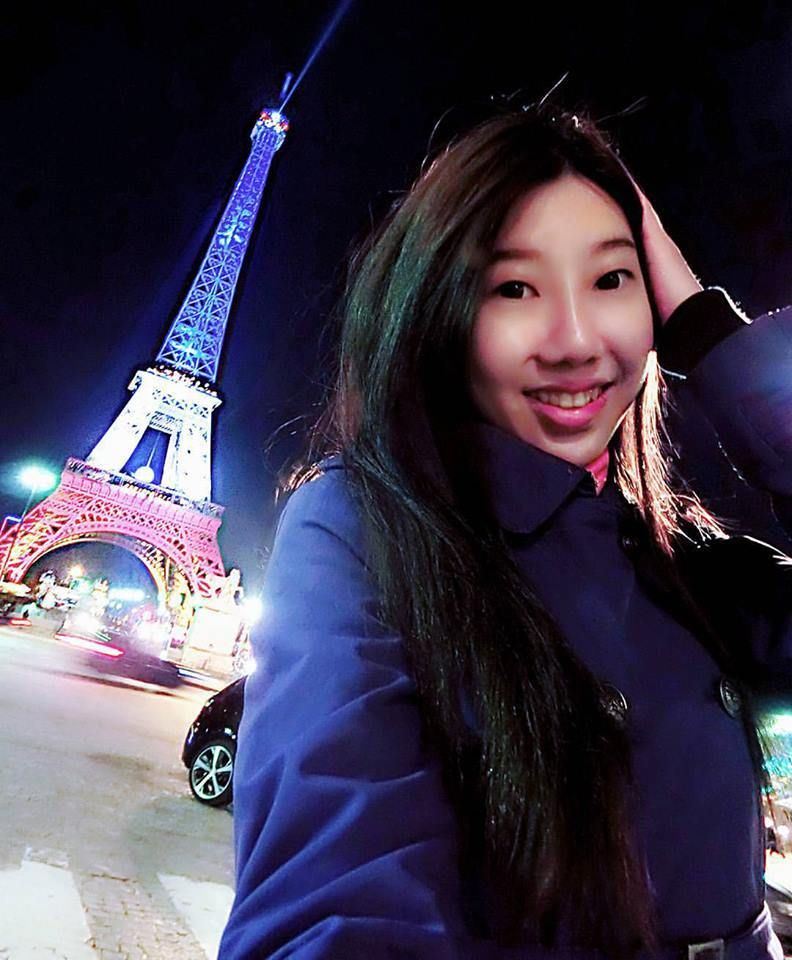 Speaking about not heading out, I still went out bracing the 1degree coldness to have a stroll to the Eiffel Tower that is litted up in Red White Blue. This is not the usual sight of the Eiffel & not sure how long would it remain, so I guess it's a need to grab this rare chance to catch a glimpse.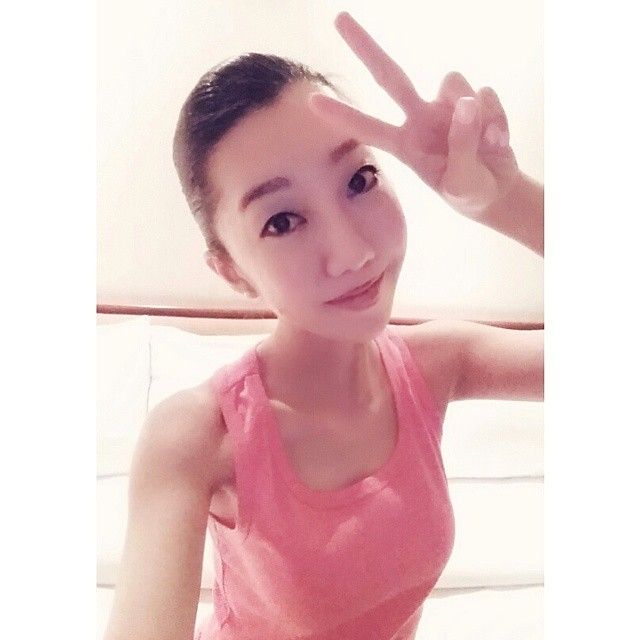 Throwback to exactly one year ago!
So one year ago today, I was in Jarkata doing my 1st OJT flight pattern. Happy Flying Anniversary to Me! Time flies while you fly.
Still remember a year ago, I was struggling in making the flight work, work, like literally. Like how most of us do, we were all counting down on our bond end day even when we even started, Then in a blink of an eye, one year passed like that. Now, we no longer cared about the bond thingy since it does not matter anymore. To wake up at a different timezone every other day, having breakfast in Japan, lunch in New York, dinner in Singapore, no after-work worries & having mini holidays weekly seems like an ideal life. Other than me being rather 'brainless' after doing this in a while. Honestly I would really miss doing what I am doing now if I were to clip my wings, more of being comfortable I would say.
Although this lifestyle actually gave me lots of self-gain experiences, like being totally independent, self-protective, very travel-smart, crew benefits along the way.It's rather irony that I felt I have done nothing for the past one year. My past one year is basically being scheduled, no public holidays, no plannings to be made. I missed out most public holidays, best friends weddings, birthdays, important events (my first ever chance to vote for the General Election) , missing out friends gatherings, peer understandings, family bondings, datings, sleeps, health..... Pros & cons we say.
Throughout these 16 months, the thing that kept me going is none other than Love.
Love from my ever-loving parents & Des.
The parents never failed to pull my luggages see me off for every flight, be it taking the train with me all the way from Boon Lay to the airport, or downstairs to my regular's car watching me till I am off their sights irregardless it's 4am in the midnight. My mum would be the one washing my clothes, packing my luggages, going to the temple to pray for me & prepare good dinners for me weekly the few off days I'm home.
Des, would also come all the way from either his workplace or home at the East to Boon Lay, then handles my lugguges all the way to airport again. Then he would check my return flights & pick me from the airport as much as he could to send me back home. Besides that, he has to also hear me rant about my pre-flight anxiety/emotions, bitchings, am I'm really glad that he's coping it so well that he could totally understand our work lingos I have no communication barriers with him. He knows exact all the flights reporting & arriving time, remembers my schedules & timezones better than me! It's never easy for us to go on dates because I do not have weekend offs often, most of the time I would spend half of my offs sleeping away, but he will make sure I do get my sleeps while he will be the one sleeping lesser to make the most time with me.
I think I am one of the luckiest crew that does not need to pack & pull own luggages.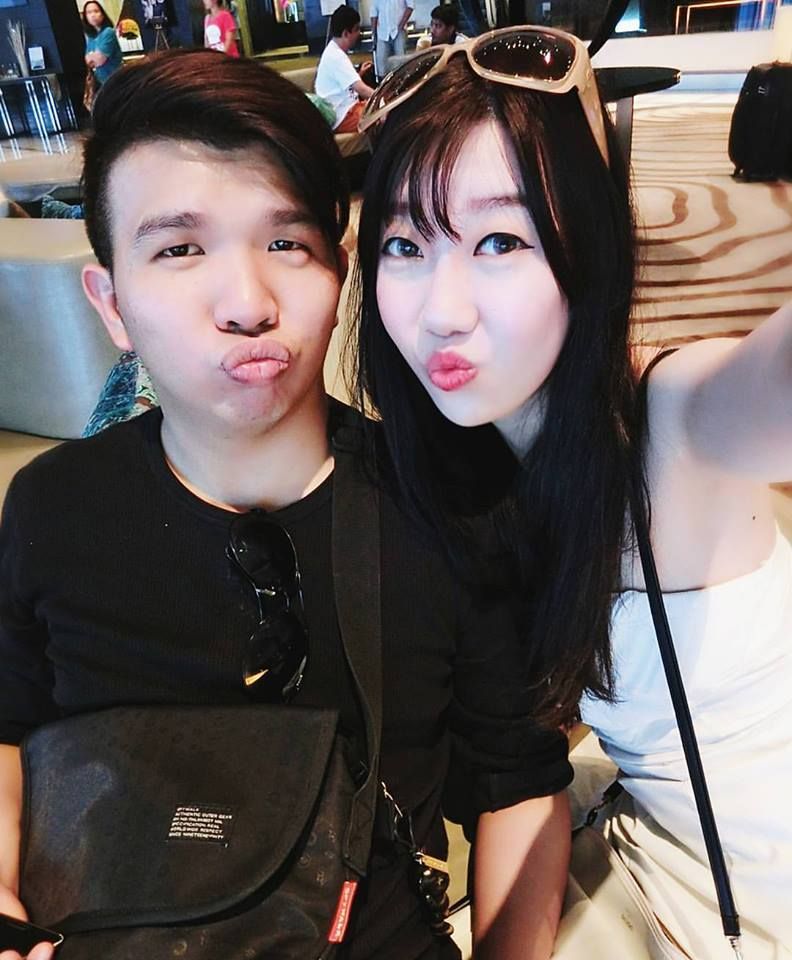 As for how Des & I started of, we somehow 'met' each other 4 years ago at one of my very good model friend Selina's 21st party, whom happened to be his god-sis. No, I do not even know this person existed back then! He claimed that he noticed me, but obviously I didn't. Oh well, he was going after another girl at the party that time!!
So it was on his birthday last year that we officially met at my nightjob place Fclub. It was the 4 days world cup event, I remembered I was veryvery sick having fever that day & on the verge of skipping work. I was brought to his table by a colleague, which happened to be his ex-coll too. Very dramatic I know. I was wearing England jersey that night (thus my nickname was 'England' to him back then. He text me thing like 'Miss England') & job is to collect voting tickets for myself. Des gave me his votes & kept chasing me away to go for my other tics. In my heart I was so annoyed by this guy because all I wanted was a place to rest my sick body & slack & it was one of the rare times I got chased out of a table. Then a week later, he appeared again in Fclub looking for me purpose was to get my number. He claimed that he somehow finds me familiar & went online to trace that we actually met 3 years ago(quoting this happened last year). He was lucky I was pretty good friend with our common friend Selina if not I wouldn't even have bothered about him. Followed on he began to appear in Fclub every week, sometimes twice a week for me. No, I did not even sense that he has a thing for me. It was just a very short 1&half months of us hanging out at my previous workplace then I had to be away from Singapore 3 months. I forgot when was it I broke the news to him of me being away & my current job. He wanted to meet me the night before I fly to pass me the box of Gummy bears but I was attached in the previous relationship back then, so I did not really put him in my life, not to say meet him.
So while I was away, my non-existence-previous-relationship was on a bad situation, I had no one to fall back on good & bad times. Des was the one that leaves me texts every few days checking out & encouraging me. Then there comes his surprise Gummy bear & Pandora with love notes fedex flown all the way from Singapore to Tokyo! Such a sweet surprise! But actually I still did not even thought that he was going after me! So we maintained the few days once chat-texts till I came back. I did not meet him up cause I thought I was still in a relationship & I'm a good gf I don't meet guy I just knew individually. It was till I settled off the last relationship, flew off & came back for my first OJT pattern (Happy almost one year anniversary of our first date bb!), then I initiated a meet up, all because I thought I was just being nice to reciprocate his Gummy bear parcel. So our first date was Ramen & sing K ? I can't remember. I'm bad at this sorry baby. But Des got all our stuffs we eat, things we do & place we went detailedly noted down in his phone. Speaking of efforts he really does put in alot of it :)
I started my busy flying schedules but it's quite amazingly how I actually come back to him when I am back in Singapore, I guess it's the feeling of knowing someone you can fall back on because he is somehow always there for you. But I was pretty annoyed for the rest of our dates were all with his friends, & he would use his friend's name saying who & who ask me to go. I honestly thought he friendzoned me because guys would usually not include their friends if they want a date with a girl. I'm very caution in my feelings & obviously still monitoring this guy despite him confessing for a few time, I just couldn't really trust males anymore. He did not put any single pressure me on to be together with him while it was me that kept telling him I needed time to think. It's not easy maintaining a relationship while flying, really not easy for both me & him so I do not want to be in something that I do not know if it works. But somehow I must admit that it's really comfortable being with him, so yeah, I was told to just choose a date for our anniversary -.- This guy didn't even bother to officially ask me again. Very annoyed again thinking he's not even persistent :( :( So we somehow went thru a Long Distance relationship, so what's more challenging can dating while flying be. 9 months passed we survived thru hours & hours of Tango video calls till either he or me fell asleep. He makes sure he report his whereabouts to me daily, gave in to my demanding curfews for him, calmed all my insecurities. There are times I kept ranting about leaving my job the soonest but he told me think & just do what I like & want while I can, live the fullest out of what I'm in right now since I'm already in it. He even asked me to fly till we got married zzz. But it's damn sweet actually, I secretly got touched by this.
Somehow I think we are some what fated. I was not even supposed to be working for the World cup event & was call up by negotiations just two nights before. Then I was very sick almost not making it for work. If I didn't attend, I bet we wouldn't even have crossed path.
I bet he did not even know some part of how I felt here, & I hope he don't mind me sharing our courtship :X